Your financial support enables us to serve our children face to face.
Heart For Kids is helping bring change for orphans and kids in need, but we can't do it alone. The situations faced as we serve in China, India and Indonesia are very fluid. Apart from child sponsors financial support for our various projects such as rural education, foster homes and orphanage training of children, we have needs which sometimes occur very quickly. Then sometimes the needs are met very quickly too. This can be a wonderful process. But we often find ourselves wondering how we are going to continue something without an injection of financial support.
What will happen next when faced by a particular need. We know that Heart For Kids are doing what we're called to, and over the years we have been blessed to receive much needed financial support to continue this service. We value every supporter, no matter the size of their gift.
Often people ask us how exactly can they help. So we felt it would be a good idea to put the information here.
China – Milk Powder for Doves Wings Babies –
ALWAYS AN URGENT NEED
Our baby milk powder has been provided to our Doves Wings children by a partner organisation however we have just been advised that this may is longer be available. This is quite a blow which we now have to cover the cost of.
Our babies drink approximately $AUD1,350 of milk powder per month and we are urgently looking for additional support for this food. To give for this urgent need now please click and enter "Milk Powder" in the comments box.
China – Vitamins & Creams
Vitamins, skin creams and basic children's medicines are really helpful. If you're coming to China please see the needs for vitamins etc here.
China – administration equipment
Our project administration team have been struggling with quite old laptop computers which we would like to update. The approximate cost of this project is $AUD3,000
China – Doves Wings Equipment
Our children are growing and have reached the stage of needing new cots. This will be a cost of approximately $AUD750 to replace all those we need.
We would always like to strengthen our standby fund for medical care so gifts directed to this are always gratefully received.
Staffing in all our foster homes and projects is another area of care in our foster homes which is difficult to face. Wages are continually on the rise, and often people do not want to care for orphans because of their low standing in society. We want to care for our staff well, and so gifts directed to helping employ good staff are always needed.
China – Morning Light Centre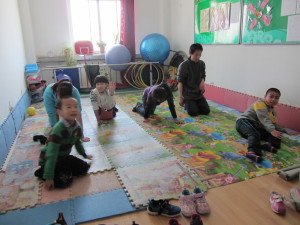 One of our largest single expenses is renting our office space. This is not only our administration centre but also a training centre for staff, volunteers and parents. Yearly rent is in the order of $AUD10,000 to $AUD12,500
Indonesia – House of Hope building fund
The actual building for House of Hope is only partially completed. This results in leaking ceilings when it rains and other issues. Through the help of sponsors we have built and installed a new kitchen which has made food preparation safer and more hygienic. Your gift to Heart For Kids for this project will allow us to complete the building and its amenities.
Indonesia – House of Hope bus repairs
The engine in the mini bus we have for youth work is working well however the body needs some work and it's in need of new tyres. The approx cost is $AUD2,500
India – Sunflower ladies resources
The ladies who participate in the Heart For Kids Sunflower program are all HIV+. Each month they are given some groceries to assist what they normally could buy. We also have training staff to help with occupational training and medical assistance. We desperately need funds to run this program.
Donations over $2 to Heart For Kids tax deductible in Australia