We first visited Doves Wings in may 2017, what an experience!
Having always had a heart for China, a colleague and I approached David and asked if he would be able to use our skills as Occupational Therapists to help any of the children in the care of his team. Thankfully he agreed to have us to visit and so our journey with Doves Wings began. It's been a great experience.


My daughter was also able to travel with us and so the trio of Arianne, Carey-Anne, and Carolyne arrived in China in May 2017.  Fortunately our trip just "happened" to coincide with one of David's trips to Xian which meant that we could meet him in person. It was inspiring to see what he has built up through years of commitment.  He also introduced us to our now favourite coffee spot for future trips, Sit Cafe.
Doves Wings for me was like a dream come true. To walk into the lives of children who have had no choice in being given up, and to be able to love them, pray for them and to use our therapy skills to support them was a huge privilege. We were able to meet the carers on the ground who look after these children each day and to work alongside them, guiding them in how they could further support each child in their development.
Having been able to visit again in March this year 2018, we have been deeply impacted by the love that the local leadership team show in their daily work for the children. We have loved getting to know them and being able to work alongside them, and enjoy regular catch ups on we chat from the UK!
We're coming back
We are looking forward to the experience of the coming year. We have now created an online therapy team to support the local team in areas that they want to focus on to support the children. Our first project has been to teach into the area of developing the children's communication skills.  So far it seems to be going well, and we are keen to continue to support them in developing the team that cares for the children tirelessly each day.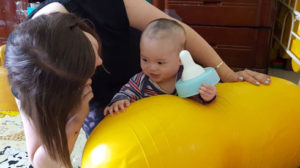 I am amazed every time I see a post or an article from people all over the world that have visited Doves Wings or the other projects in China. How incredible that God captures our hearts from every nation to be able to love and nurture, encourage and lift up these little ones that would otherwise have no hope That we can walk alongside these projects and support the dream that God put in David's heart to see these captives set free and their lives re-written is an incredible gift.
I think of the verse from Matthew 19v14: But Jesus said, "Let the children come to me. Don't stop them! For the Kingdom of Heaven belongs to those who are like these children." I thank God for David and all the other people involved in this adventure, that through them, these little children are brought to the foot of the Father, to experience his love and his heart for them.

Carolyne Oates
Hampshire
UK
June 2018