Good leadership and governance are crucial
Our leadership team works hard to provide transparency in our work and the reporting of it. We value the trust supporters place in Heart For Kids to deliver care and life-changing opportunities to orphans and kids living in poverty. We believe in God's call to provide care, support and protection to widows and orphans who are marginalised and often referred to as the weakest of the weak.
Often people ask how their gifts are being spent.
It's a good question to ask any organisation involved in our kind of work or ministry; how do the funds come in and more importantly how are they are spent. Too often gifts and donations can be spent on high levels of administration or infrastructure.
Heart For Kids senior leadership team is based in Sydney, Australia, and staff or partner co-workers in various countries. Other than our childcarers most of our co-workers are volunteers. Therefore a relatively small amount of our finances is required for administrative wages.
Heart For Kids head office is in Sydney and is hosted in the offices of a separate and private company (LST Group) owned by our founder David & Beth Ryan. We are blessed to receive administrative support which means that there are reduced expenses in office and clerical requirements.
The result of this is that around 83% of all funds and gifts that Heart For Kids receive are used in the projects. We recognise that as we grow this may not always be the case, however we will always endeavor to ensure that the highest percentage possible of funding is actually used to directly help the children.
While David and Beth's business is a major supporter of Heart For Kids there are no financial or physical links between the organisations.
Heart For Kids Leadership and Board Members
David Ryan is the founder and Snr. Leader of Heart For Kids and ChinaHeart. You can find him either in the office in Sydney or in the orphanages, children's homes or villages of of children being served in our projects. He spends around three months each year working in our projects. As well as leading Heart For Kids he is also the owner and managing director of a successful business with a great supportive team.
The Heart For Kids Leadership Team & Board

David Ryan, B. Min; Board Member, has been involved in business leadership all his working life. He founded a company supplying the sign industry in the early '80's that is today a leader in the delivery of laser cutting & marking technology. The company employs a team of 15 and is led by his Co-Director, wife Beth, and General Manager Geoff.
David's first trip to China in 1996 was a life changer. He then studied for his ministry degree. He founded ChinaHeart in 2004 and in 2016 founded Heart For Kids who became the parent ministry as our service extended into new countries. David & Beth have 3 adult children and are both ministers with The Southern Cross Association of Churches.

Beth Ryan Diploma in Training & Assessing; Treasurer. She is also the Financial Controller and Office Manager of their business and very involved in the leadership of Elijah House Prayer Ministry Schools.
Ken Lee, B.E(hons), PhD (Eng); Chairman of the Board, graduated as an engineer and went on to finish his PhD. Despite all the years of engineering education, he never worked as an engineer! Ken has recently retired as an IT professional from the finance and banking industry and is spending more time in the family business, which is guiding school-going children through their formative years of education.
Ken has been involved in church ministry over the last 30 years and has served in the church council for 10 years, two as Chairman. Ken is married and has 2 adult children, who are also active in church ministry.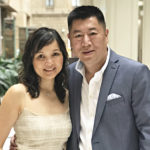 Tom and Adele Chan, B.Sc; Board Members, are married with two teenage daughters.
Both Tom and Adele have IT backgrounds with over 20 years of experience across the financial and media sectors. Together with their girls, the family is active in church ministry.
Adele has a passion and Heart for Kids, to see each child valued and grow to their full potential. Tom specialises in risk management, governance, financial and IT management, and is currently an Executive Committee member of the church council.
Peter Chung MABP, MBA, CPA, FCCA, Accountant
The financial accounts of Heart For Kids, are reviewed by WSC Group – Audit Pty Ltd
Beyond the above Senior Leadership Team, we also have various people in countries including China, Singapore, Taiwan, England, the USA and Australia who provide wisdom and guidance in specific areas concerning Chinese culture and systems, childcare and humanitarian aid.
Child protection is very important in the ministry of Heart For Kids.
The safety and well-being of those we serve are extremely important to Heart For Kids. Click here for more information.
Reporting Accountability & Tax Status

Heart For Kids Australia is a charity registered with the Australian Charities and Not For Profits Commission with Deductible Gift Recipients (DGR) status. All donations over $2 to Heart For Kids are tax-deductible in Australia. Please ask about deductible donations in USA and England
When you donate your gift will be acknowledged by Heart For Kids. At the end of the financial year you will receive an approved receipt for taxation purposes. This receipt will summarize your giving to Heart For Kids during that financial year.
We value your support and thank you for every gift, large or small, received on the children's behalf. You're making a difference.
If donations for a nominated project are higher than expected and the project is oversubscribed we reserve the right to reallocate donated funds to other similar projects in need.
If you have any questions, feedback or complaint regarding our service or this website you may contact us via the contact form.