Siya* is illiterate and lives in one of the villages. Her husband works as a labourer and they have two small children. Like other women in the village she looked after her family and did not have any work in their village. 
Siya's husband lost his very basic labouring job because of COVID which left the family destitute. 
Siya had the opportunity to join one of our tailoring schools and worked hard to learn the skills needed to design and sew basic clothing items. She was given a new sewing machine when she graduated so she could open a small market business to support her family.
Siya was creative and realised there could be other items she could make and she designed some fancy carry bags and small mobile bags.She found a need and began creating these new products that no one else was making.
When the villagers and shop owners came to know about her new business they visited her stall to see more and to buy these bags. She received more orders from the nearby shops. 
After she has made her orders they come and collect bags from her house. She makes them in good quality and charges at a decent price and people are very interested in her products.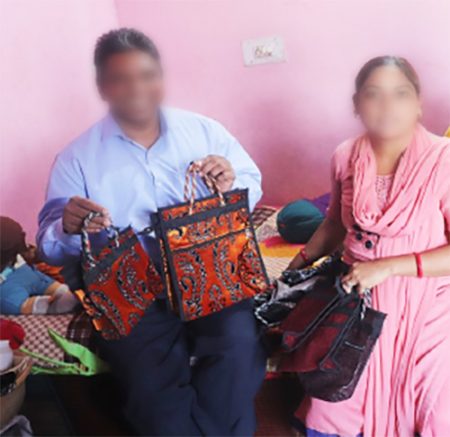 Siya is busy with her job. Now she earns more than what her husband used to earn. She supports others in her village and is able to save a little each month.
When we equip women, their family transforms and then their community. There are hundreds of women in the rural villages waiting for help.
Tailoring schools are one of the answers to help them. With more funds we can open more tailoring schools which will equip more women like Siya.
*not her real name