Why are we serving in India
Because children are in need, they don't have access to safe water. Because children are not able to access education and because we want children to grow up knowing they are loved and special and being able to achieve their potential.

With the help of our supporters, we can help. Sanitation and education are the two best methods of improving people's circumstances. For every dollar spent in these areas, a 4 times value improvement has been seen.*
Child Development Centres
When children can't gain access to a school for their basic education, there is a problem. For these children, schools are unavailable. If there is a school in their vicinity the schools are either so expensive parents have no possible way of sending their children, or, the schools don't want children whose education standard is low because they have not been to school. Both of these are badly impacting children.
The solution is a Child Development Center. Here the children will receive a basic education that prepares them for their future. Without these centers, children have little alternative but to just roam the village streets. But when they attend they receive guidance and teaching in a safe loving environment by teachers who value the students. And the children know this.
Safe Water Bores
Most of us don't even think when we turn on the tap to fill a glass or wash our dishes. It's so natural, we do it many times every day.
Without safe water, children are walking many kilometers every day to obtain water for their families. This also puts a strain on them attending any school or child development center.
We have been helping provide safe water bores, which are dug to a depth of 120 meters (400 feet) to reach the safe water table.
COVID-19 Food Aid
When COVID struck India millions were immediately out of work. The impact is still being felt in devastating ways. Families have been unemployed for months, they have sold what meager possessions they had, but for many, the cash has simply run out. They are day workers. If they don't work today they have no income. They can't buy food. Family cupboards are bare.
Over 3,500 free food parcels have been provided between March and August 2021 and the plan is to keep providing these because children need food. Families come to one of our seven food distribution centers to receive this free care weekly.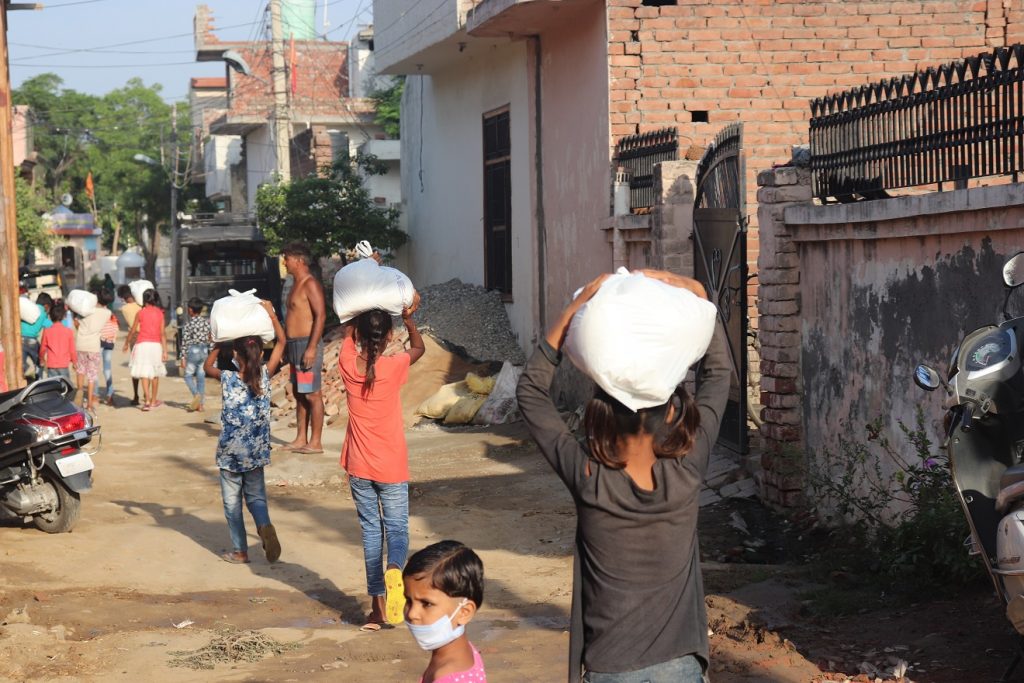 What Can You Do
The greatest way you can physically help from a distance, wherever you are, is by sponsoring a child in India, making a general donation, or specifically donating for COVID-19 Food Aid. The process is easy and the impact is real.
Read our articles:
Sydney to China.
Get Involved
#LetsHelpOneMore T-Shirts
*WHO, 2012