Heart For Kids is helping bring change for change for orphans or kids living in poverty
Change for orphans or kids living in poverty and abandonment, children like Cuilian and her auntie from China. We're seeking to treat each child as an individual, to let them know in their spirit as we serve them that they are loved and special. Child sponsorship helps change lives through helping to change circumstances. For rural children it helps provide a process by which we can encourage children and their families to consider how they themselves can make changes so their life circumstances can change, through further education for instance. Sponsors play an invaluable role in the lives of each child. Child care in Asia is not simple, and is simply not available to many. But having child sponsors working with us enables us to provide for the increasing needs of these children.
Doves Wings and Home of Love is another expression of love and compassion being worked out actively. Doves Wings cares for orphaned babies until their adoptive parents, their "Forever Families" come to take them home.
"Dear Auntie & Uncle…thank you for the gift you gave to me. You help me go to school. I don't know how to thank you. There are 2 people in my family, my auntie and I. My father left us this 1 story house and my mother passed away when I was 7 days old. My father died when I was about 6 or 7 years old. My grandma passed away when I was 9. Thank you for your help and concern that let us live like other people". Written by a girl we are helping in rural China named Cuilian who is now 13.
We are serving school age children so they can stay in school and receive the best education available in their area. For instance, the estimated number of orphans in China is between 9 & 15 million orphans. We're not just about doing humanitarian aid for the sake of doing a nice thing. Our child care & support helps bring change and life to at least some of these abandoned & orphaned children. Will you help? Will you sponsor? If you're not able to sponsor long term perhaps you're able to donate to one of our other projects which you can read about here in our website.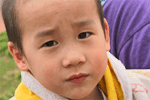 We encounter some heartbreaking stories as we spend time visiting children in our support network. One of our co-workers, brings news from a recent trip to a country area to visit some of the children supported through our mercy ministry… (more)
Your sponsorship whether for children we serve in China, India or Indonesia, and your help and prayers do make a difference! Thank you.
Heart For Kids was born out of ChinaHeart International. When the work grew to serve children in other countries we felt a new umbrella organisation would serve the ministry better and give a clear direction as to who we are. The work previously done under the name of ChinaHeart and the ChinaHeart International Aid Fund is now done under the one name of Heart For Kids.
If you have any questions, feedback or complaint regarding our service or this website you may contact us via the contact form.