Workplace giving is an effective and simple way to give orphans and kids in need the help that will make a difference.
He Jin's letter
Workplace giving makes it easier for you to help. For instance, help us in China to provide support to rural children so they're able to get as much education as possible. One young man recently wrote and shared…
"I've always been encouraged and helped by my neighbors and friends since I was young because they know my situation. When I got to junior high school, Heart For Kids came to my town… After knowing my situation, Heart For Kids decided to sponsor me. They not only helped me with my tuition, but also gave me great encouragement, which made me feel I was loved… I've always been a hard-working student since junior high. When I got to senior high school, I kept working hard because I understand my education was helped and supported by so many people even though there were so many courses with loads of tough tasks to tackle… With love and persistence in my heart, I went through three years of hardship and eventually got to university… No matter what I've achieved, without your help, without Heart For Kids, I could never have had them realized. Because of your love, I am very grateful for what I've got in my life at all times.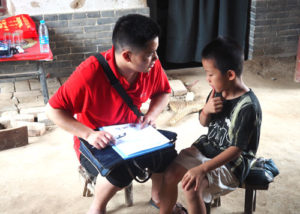 He Jin is one of our children, an adult now and making his way in the world with the backing of a much better education. Over 500 children have joined our family.
Another of our family, a little boy in India, was abandoned along with his sister when very young. But now he is in our home being cared for and receiving the local and attention every child should, but so many don't.
For Australians, workplace giving allows you to donate to Heart For Kids pre-tax through your payroll. Your donation is automatically deducted from your gross salary each pay period, meaning that you receive an immediate tax saving when the donation is made and saving you time searching for receipts at tax time.
For example, if you donate $50 from your pre-tax income, you actually pay less than $50, as the government contributes part as a tax deduction. Here's how it breaks down if you earn $50,000 a year:
| | |
| --- | --- |
| Pre-payroll deduction per month | $50 |
| Tax saving | $16.25 |
| Annual cost | $33.75 |
| Donation to Heart For Kids | $50 |
Some employers match employee gifts, doubling the impact and allowing you and your colleagues to have a greater impact on the lives of families living in poverty. Sound good?
Here's what you should do: speak to your employer today and ask them to set up a giving program in your workplace. Or, if a program already exists, you can opt to donate to Heart For Kids.
Employers
Through a workplace giving program you'll have a simple and powerful way to improve staff morale and your company's reputation while having a significant impact in the global community – at very little cost. The program is simple to administer and will provide your employees with a tax- effective way to donate to Heart For Kids. Not only will your organisation been seen as really caring about being socially responsible, but also collectively, your team will have a significant impact in the lives of orphans and kids living in poverty.
You can also show your support of employees' generosity by matching their gifts.
If you're thinking of setting up a workplace giving program in your organisation, we can help – get in touch with us today.
People have said they believe in Workplace Giving
85% of employees feel it's important to give back to the community through the workplace. 1
86% of employees would be more inclined to give through Workplace Giving knowing it's one of the most effective ways for charities to fundraise. 2
63% would be happy to be automatically included in their employer's Workplace Giving Program. 3
Whats next?
Click to contact us and we'll send you some more information so you can begin making a difference now.
1 ACF survey 2013
2 ACF survey 2014
3 Ask U survey 2014
Calculations provided by Charities Aid Foundation for Australian workplace supporters.