What happens when you subscribe for E-News?
Firstly we won't bombard you with emails. We publish our E-News every second month and occasionally put out emergency need emails in-between our E-News.
We won't pass your details on to another organisation. They are held in our secure database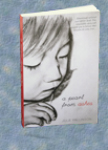 Looking for a good read, something to give you a bigger view about our work in China?
A Pearl From Ashes is a wonderful story about a beautiful little child rescued from a fatal future.