You can volunteer in a number of ways. What does volunteering look like and what are the expectations of volunteers.
Doves Wings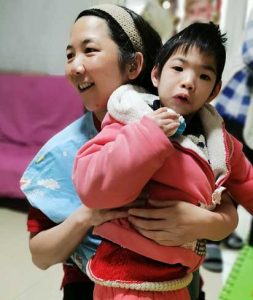 Doves Wings provides a great opportunity for you to volunteer in a home to approximately 6 babies. These children have come from local orphanages and are in our care till they are matched for adoption. The apartments are in multi story buildings and staffed with local Chinese ayi's (child carers).
For the best care of the children the ayi's are their primary care givers however as a volunteer your general role would be working alongside the ayi's to assist with daily needs. There may be activities such as particular exercise programs etc. which you would be asked to assist the children in.
You can be met at the airport in Xian by a driver arranged by Heart For Kids. Travel from the airport is approximately 120y each way, which you will be asked to pay. On your first day you'll receive orientation on work practices and appropriate cultural aspects of working in China and with our Chinese staff.
We ask you to work in the foster home, from 9am until 12 midday and then 2pm until 5pm each day, at least 5 out of 7 days. This is most helpful to our home leader, and our ayis (child carers). We will establish a roster for which days to work when you arrive. These are the usual work hours however if any special circumstances arise due to other staff sickness etc. you may be asked to work different or additional hours. Volunteers are not permitted to take children out of Doves Wings without an accompanying Heart For Kids staff member.
Depending on the needs when you come you may receive instructions in how to care for particular children. Sometimes specific children need special exercises etc. These would be issued by our home leader. While serving in Doves Wings your lunch would be provided as it is for all carers.
Volunteers with professional skills
Some of our projects are often blessed by volunteers with special skills. If this is for you then you can make a real difference either in delivering your skill or in training.
Volunteer with our administration team
Perhaps your skills are in the administration area or team building. We have a small project admin team and you could use your skills to build their capacity. They have basic knowledge of Microsoft Office products. Perhaps you have skills in computer use, networking, time management or other similar areas that could really sow into our team.
Before your application is approved each volunteer needs to read and agree to our child protection policy and sign our safe working with children declaration. These will be sent to you in advance. These can be scanned and emailed to our Sydney office and need to be received with your application forms at least 8 weeks before your visit. We will normally be able to give you approval within 2 weeks of your forms being returned.
We will try to arrange accommodation for you in a home with one of our inland team. You will need to help pay for food and lodging of around 50y per day plus a weekly allowance for power etc. If it's not possible to arrange this type of accommodation various hotels are available and costs will be advised at the time. Our hotel rates can be approximately from 160y per night, which often includes a Chinese breakfast. If you are staying with local team worker you need to understand it's a flexible arrangement. You would need to work in with your host's personal arrangements. They may not be home every night to cook a meal for instance.
At the end of your time volunteering with us we will ask you to complete a feedback form.
To talk about being a volunteer, helping us serve the Heart For Kids family, please use our contact form.
We do not believe in Voluntourism. Heart For Kids response to voluntourism
Read our article, Sydney to China.