Teams are great opportunities to experience first hand what serving is.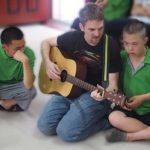 We are a Christian organisation and as such see teams as opportunities to be God's hands and feet. Through teams we serve those who are the weak and marginalized in society.
Teams are made up of people from various countries or you can form a team with a group say from your church. Teams are very hands on, not "come and see" but "come and do".
Team members under 18 years of age will need to travel with a parent or guardian.
Register your interest in receiving news and information about future teams.