Team experiences are life changing. many team members say this to us every year. But it's not only team members lives who are saved.
The children and staff in our programs look forward to every team arriving. They bring new activities, new songs, plays and dramas. So teams impact the lives of the children, staff and child carers too!
Team 58 Mid-team update
It's October and despite there not originally have been a plan for a Heart for Kids team this month, seven volunteers stepped forward so they and their team leader arrived in China a week ago as Team 58! Everyone arrived safely and the one bag delayed en route was reunited with its owner within 48 hours.
A couple of the team members have returned for a second trip within a year but the others are first time Heart for Kids mercy team volunteers. With the exception of the English team leader, the team are from the southern hemisphere: Australia, New Zealand, Malaysia and Singapore, and a number of them speak very good Chinese, which is a real blessing!
Heart for Kids mercy teams are very much 'come, see and do', with a strong emphasis on the 'do', so the team got down to planning and preparing activity programmes for many of the venues they'd visit.
The first venue the team visited, however, was Doves Wings Foster Home where the children quickly accepted the new visitors and the love, affection, cuddles and fun that was poured out on them. For returning team members it was a great time of re-establishing relationships with the children whilst also sparing a thought for those who were no longer there having been adopted into Forever Families in the meantime. Two further visits followed during the week.
This first week saw the team in a Training Centre for teenagers learning life skills to live independently. The teenagers received the team with enthusiasm and excitement and had a great time singing songs, playing games watching a skit and doing craft. One of the team commented how, "gentle, patient and caring the teacher was with an autistic boy who had only recently arrived in the centre".
The team spent the next day in a Welfare Centre with a group in their mid-teens to mid-thirties. Our teams visit this venue regularly and they quickly struck up conversations with the group and provided a day filled with indoor and outdoor games, craft, stories and songs. This group pride themselves in creating and performing dance routines. The team were treated to the latest routine which they then had the chance to learn!
An unexpected change to the schedule meant an opportunity opened to spend an afternoon at a Junior school in a rural village. With the assistance of some regular volunteers, the team delivered a programme with the Heart for Kids flavour – a mixture of stories incorporating English practice, art and craft, and games. The afternoon finished with all 80 children playing balloon relay races together on the playground, much to the bemusement of their waiting relatives!
Come Saturday the team were supporting an English lesson for migrant workers children and they supplemented this learning with songs, stories and craft, with games thrown in for good measure. One of the regular students was really disappointed one of our recent regular team members was missing!
It captured our hearts to see how delighted this little girl was to show her mum the craft she'd made with the team.
Team 57 April 2019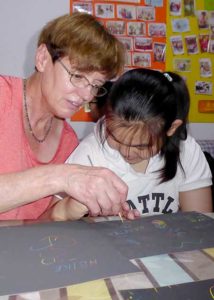 Heart For Kids Team 57 descended upon China late last week with team members arriving from Australia, the U.K., Germany and the U.S. After focusing Sunday's efforts on a full programme of activities for all the venues, the team hit the ground running.
Returning team members shared their excitement at seeing how the kids in Doves Wings, the Heart For Kids foster home, have progressed since previous visits. In fact, one team member said, "Year after year, we are seeing progress in the children in all venues. You can tell that significant time has been invested in the children's lives."
Team 57 has a strong youth component, with 6 of the 13 team members being teenagers. This created a strong peer-to-peer connection opportunity with university students whose education is supported by Heart For Kids. These students from across the world shared with each other about their plans for the future, the life journey they have travelled thus far, and what they like to do for fun.
The team also spent significant time caring for babies and children in the orphanage. Just being able to love the children and give them one-on-one attention was a highlight. Teams witness the babies' facial expressions immediately change as they are loved. One team member shared, "Holding babies in the orphanage was a thrilling experience. I feel really hopeful about coming back."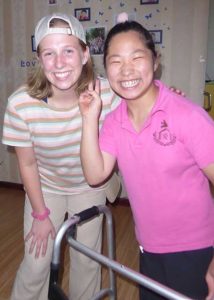 The team spent Wednesday at a welfare centre with older kids, many of whom were excited to recognize returning team members. Through time spent in fun games outdoors, caring touch through hand massages, and crafts to encourage creativity, across the board the team made many friends and poured into the kids' lives. We were struck by the family atmosphere in this centre and we found that the kids there served us even though we're here to serve them.
With such a large team, additional serving opportunities opened up for these Heart For Kids volunteers. Returning after a few years break was time spent supporting an organisation that provides life-skill training for older teens and adults with challenges. The team felt much joy in being a part of helping these kids reach their potential and move towards a future of more independent living.
Now near the half-way point of the team's time in serving, team members have already shared that they feel like their time serving was an empowering, life-changing experience.
Team 57 Closing news
The last members of Heart For Kids Team 57 to China began their journeys home recently. This team really put a lot of love, energy, and fun into the whole 12 day programme. It was filled with care for children in Doves Wings, one-on-one time with babies and older children in the government-run orphanage, challenging activities for older kids in the welfare centre, quality conversations with adults in an English Corner, and much more.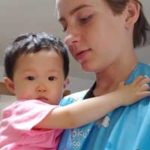 Since the last update, the team held a great session for the children of migrant workers. Each child was given individual opportunities to show off what they've learned as part of an English lesson, but they also learned some new vocabulary and grammar. Music, skits, games, and learning with one-on-one focus were all part of the big goal of making sure each child felt love and care during their time.
The team also returned to the welfare centre with older kids for another full day of activities. With this being the second day with the kids this trip, it was fantastic to see the connections made in the previous week grow with the additional time together. Good weather allowed us the opportunity to spend time outdoors for some unbridled fun in which everyone could participate. Team members shared that a highlight of the time at the welfare centre was seeing the kids wholeheartedly throw themselves into a challenging teamwork game – and then seeing their great joy in overcoming the challenge to win the game as a team.
Heart For Kids' foster home Doves Wings was also an important focus of the second week of serving. Learning that two of the Doves Wings children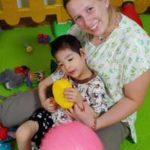 would very soon be leaving for their forever families made the time in the foster homes particularly meaningful. "We felt a lot of joy in knowing that we could share love and fun with all the kids to help prepare them for their forever families. This time really brought home the importance of what the whole Heart For Kids family is doing," said one team member.
The team can head back to their respective home countries knowing that they made a difference wherever they went. As one team member noted, "Year after year, we are seeing progress in the children in all venues. You can tell that significant time has been invested in the children's lives." We know that Team 57 won't forget the children they loved, connections they made, and the fun they had in simple, caring service. Any challenges we face as we come together to serve the kids of China are small and momentary in light of the long-term benefit and joy we see in the kids.
Team 56 April 2019 update from our team leader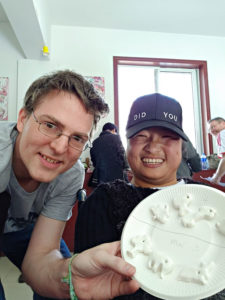 Heart for Kids Team 56 completed their arrival in China at the end of last week with some having experienced disruption from missed flight connections and a missing bag (which, thankfully, arrived 24 hours later). The team comprises volunteers from the USA, Australia and the UK, with four being first-timers, and is now at the mid-point of their trip. Their commitment is to recognise that every person, regardless of their colour, race, or ability is created in their Father's image and has value and purpose.
After planning and preparing an activity programme for some venues on Sunday, the team arrived in Doves Wings foster home bright and early on Monday morning. There have been a number of changes in Doves Wings since Team 55 came through and not least among these has been the adoption of six children into forever families. It took some time for the children to become accustomed to the new faces but by the end of the day there was laughter and cuddles galore! Come Tuesday the team were to be found visiting an orphanage in the city. Children face greater competition for attention here so they really benefit from the additional love, care and attention a visiting team brings. The day was spent playing, singing, cuddling, feeding the little ones and encouraging the ayi's (child carers) who are typically stretched to meet every child's needs.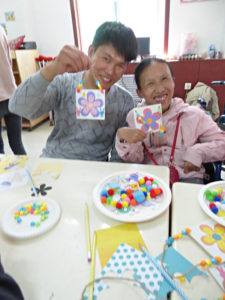 The team spent Wednesday at a welfare centre with older kids, many of whom we've got to know over the period that teams have come in and poured love into their lives. This was the first venue where the activity programme kicked-in and much fun was had singing songs, playing games and doing various craft activities together. After spending time finalising the activity programme for the remainder of the trip, the team spent another session in Doves Wings.
Team members have commented that the children in Doves Wings were already noticeably more relaxed and receptive to them and look forward to getting to know them even better! After visiting the welfare centre the team expressed how wonderful it was to experience the sense of community and family among the kids, their love for each other and the love they received from the kids.
Team 55, October 2018 update from our team leader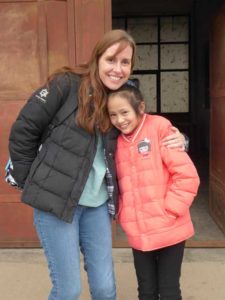 The 55th Heart for Kids Team to China arrived successfully. Unlike team 54, it was great to have everyone arrive without flight disruptions and delays. The team are all volunteers. Four on their second visit this year! People came from the US, New Zealand, Germany and the UK and hit the ground running.
Early on Sunday morning they set out to visit rural villages to meet some of the kids in our education sponsorship program. This is not a usual team activity. In fact it's the first time for an international team in many years. They had an insightful but challenging time hearing about the kids' lives and how they're now looked after by grandparents and aunties. The kids talked about their dreams and were encouraged to continue studying hard at school.
Monday afternoon the team were in Doves Wings foster home where they heard directly from our Project Staff and the Ay'is (child carers) about the children who had recently been adopted and gone to be with their forever families. That said, there was still a great need for hugs, cuddles, games and time in the park for those who remain. On Tuesday the team was in an orphanage in the city where the children need and appreciate the one-to-one care and attention we're there to give. The regular staff of ayi's are stretched and don't often have enough time to give to individual children. It's not necessarily due to a lack of desire but a lack of hands. So when the team come in there are these extra pairs of hands and arms to hug, feed and love on the kids.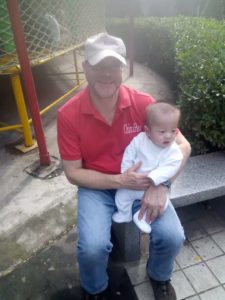 On Wednesday the team visited a Welfare Home for adult kids with physical and mental challenges. These adult kids love the teams coming in. They laugh so much, and really engage in the activities. They always teach the team their most recent song and dance to have learned. The team ran a program of songs, drama, craft and games and were blessed at least as much as kids!
So this have been the first part of team 55! We're looking forward to what the second week will bring.
Team 55 closing news
Members of Heart for Kids' 55th Team to China began their journeys home in the early hours of Friday, 1st November. During a packed 12-day schedule they encouraged kids in our education sponsorship program, orphans, kids and adults with physical and mental challenges, and local students and children of migrant workers with their spoken English.
T
eam members commented that visiting rural villages – the first time for an international team in many years – was a particular highlight as they got to meet sponsored kids and their grandpas, grandmas and aunties in their homes. The team was overwhelmed by the reception they received, impressed by the love and devotion shown to the kids, and the kids' commitment to study hard and succeed in their schooling.
Throughout their time in Heart for Kids' Doves Wings foster home and the government-run orphanage the team poured out their love for the kids through hugs, cuddles, smiles, fun and games in the playground, and songs and music. In the other programs the team spent time doing crafts and activities, playing games, singing and performing drama to bring laughter and learning in a fun and inclusive way.
The team returns home having left heavenly fingerprints everywhere they went and in every life they encountered. They're also bearing the memories of the kids' faces, the sounds of joy and struggle, and experiences of lives being lived-out in tough circumstances. Please remember the team members as they return to their families and home-lives and those they met whose situations are very different.
Team member quotes…
"I felt I could be myself, but I also felt a sense of peace, love and fulfillment there."
"It's amazing how we came together as a group of completely different people from different stages of life and different countries, yet we were God's perfect combination of the right gifts and skills."
"I'm thankful for this team and the opportunity with Heart for Kids because it gave me the chance to see the power of love up close."
"It was such a privilege to interact with the families helping the orphans, and their generosity was inspiring."
"It was amazing to be there when two new children arrived at Dove's Wings from the orphanage – what a gift to snuggle a child that was just plucked out of a crib and help them feel safe. The feeling is indescribable."
"Kids are transformed by even small gestures of kindness and the impact on their lives is stunning."
"To me, missions always came across as people or groups of people who had a long and extensive background in Theology and had all the answers about everything, but now I would say it can be done by anyone with a caring or serving heart."
"I am grateful that I had the opportunity to meet some of the needs, love on, snuggle, feed, smile at and pray for the babies while I was there."
"My life won't be the same when I go home, and I believe these kids will be forever changed as well."
These quotes could be your experiences in 2019. Click the link below to learn more.
Whats next?