The worst India floods have struck Kerala.
KERALA has been hit by devastating flash floods amid landslides and fears a dam could burst its banks in the heavy rains. Here is the latest news and live updates on the Kerala flooding. Kochi airport almost entirely submerged. Dams are all open.
Over 160 people have been killed and thousands more impacted by the total loss of homes and destruction of property. More than 300 medical students sent distress signals via social media on Thursday evening after becoming stranded at the Sree Narayana Medical college in Chalakka, North Paravur, Ernakulam district.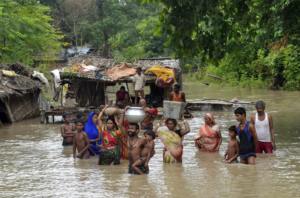 Rescuers battled torrential rains to save residents, with nearly 223,000 left homeless.
The state government said many of those who died were crushed under debris caused by landslides.
With more rains predicted and a red alert in place, the main airport has reportedly been shut until 26 August.
Being small we are able to offer aid and assistance in villages and areas where others often don't reach. These are the children and families who are often forgotten. Your help will allow us to provide rescue packs for people when they are able to return to their homes.
Our relief appeal is planned in 3 stages.
Immediate Help
A network of twenty churches plus homes are establishing relief shelters across Kerala are being converted into refuge shelters for families and people in each area.
Stage 1 is the provision of basic accommodation and food for 1,200 people
Stage 2 is the provision of 1,200 basic rehabilitation kits for people when they are able to return to their homes. These will include groceries & medical supplies. Your donation of $46 will provide this basic kit for a person. This is the stage we are raising funds for.
Stage 3 will sow into the ongoing recovery effort.